Texas(TX) All or Nothing Evening Most Winning Pairs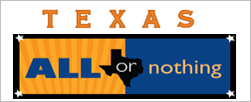 Updated: Wednesday, December 31st, 1969 07:00 PM
Use the information listed on this page to identify the 50 most winning pairs of Texas(TX) All or Nothing Evening. We update this page after each draw.
Texas(TX) All or Nothing Evening is a lottery game which chooses 12 winning numbers from 24 numbers. The 24 numbers have 276 possible pair combinations, and the 12 numbers resulted from each All or Nothing Evening draw have 66 pair combinations. According to statistics, one pair combination should appear every 4 draws.
By combining our most winning pairs, with our Power Picks, you can easily generate potentially successful combinations.
The 50 most winning pairs of All or Nothing Evening are calculated based on 2644 draws that have taken place Mon Sep 10, 2012 (01-03-04-05-06-08-12-13-16-19-23-24) through Sat May 08, 2021 (01-02-03-04-05-08-10-11-15-18-19-23).
In the total of 2644 draws, each pair combination is expected to appear 632 times. These below 50 most winning pairs obviously have above average performance.
Texas(TX) All or Nothing Evening Most Winning Pairs
Rank
Number 1
Number 2
Appears
1

2

8

701
2

2

16

696
3

3

11

695
4

2

20

692
5

2

21

692
6

8

19

690
7

2

6

686
8

8

16

683
9

17

20

681
10

2

11

680
11

20

23

680
12

11

15

679
13

3

12

679
14

7

15

678
15

3

16

678
16

16

23

677
17

15

16

677
18

2

23

676
19

10

11

676
20

2

12

676
21

2

18

676
22

2

24

675
23

9

16

674
24

2

3

673
25

11

17

672
26

2

15

672
27

15

18

671
28

12

17

671
29

11

16

670
30

8

11

669
31

8

10

669
32

2

9

669
33

3

5

669
34

12

15

668
35

3

20

667
36

3

15

667
37

3

19

666
38

17

24

666
39

2

17

666
40

2

13

665
41

7

11

664
42

3

17

664
43

12

20

664
44

12

19

663
45

11

20

662
46

18

20

662
47

15

20

661
48

11

23

661
49

7

12

660
50

5

8

660
Texas All or Nothing
SUN

MON

TUE

WED

THU

FRI

SAT

Morning

Day

Evening

Night


Next Drawing
Morning: 10:00 am Mon May 10, 2021
Day: 12:27 pm Mon May 10, 2021
Evening: 6:00 pm Mon May 10, 2021
Night: 10:12 pm Mon May 10, 2021